ACURA Legend
Generations Timeline, Specs and Pictures
ACURA Legend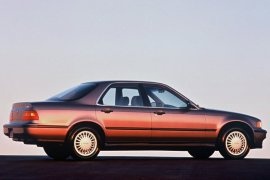 1990 1996
Built as a competitor in the premium market, the second generation of the Acura Legend made its debut in October 1990.
It was the flagship of the Honda company.
The 1990 Acura Legend was introduced with the direct aim of the BMW and Mercedes-Benz. Even if it didn't offer more engine choices, it had features hard to imagine on a car from that year. After the year 2000, features like the in-car telephone was something quite often found in a premium sedan. But in 1990 there were just a few, and the Legend was one of them.
The long silhouette with a low beltline suggested that the car was rear-wheel-drive. The flat hood and narrow front side with rectangular headlights were achieved thanks to a longitudinally mounted engine. Most of the front-wheel-drive vehicles already switched to transversal engines and gearbox, but that would make the front side taller. The narrow grille design of the Legend and the sleek overall look was appreciated by its customers.
Inside, the Acura Legend offered electronic climate control, on-board computer, a telephone, and even soft-close pneumatic system. It was something that most of the more expensive vehicles didn't have on the options list.
Under the hood, the Legend featured a 3.2-liter V6 engine. It was mated to a standard 5-speed manual or a 4-speed automatic. In fact, the gearbox and the paint were the only options on the Legend's list.
Full Description and Technical Specifications
ACURA Legend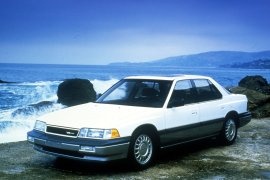 1986 1991
Acura introduced its first generation Legend model on the North American market in 1986, one year after Honda presented it for the Japanese public.
From launch to 1988, the Acura Legend sedan was powered by a 2.5L V6 engine delivering 151 hp. Later on, it received a new 2.7L V6 unit having an extra 10-hp. Among the all-new technological features for this premier luxury model, one could find the 24-valve V6 engine, variable length intake manifold, double-wishbone suspension or 4-wheel disc brakes. The 1986 Acura Legend Sedan received a slight facelift in 1989, featuring one-piece front headlamps, a newly-designed bumper and new tail lights.
Full Description and Technical Specifications