ALFA ROMEO 24 HP
Generations Timeline, Specs and Pictures
ALFA ROMEO 24 HP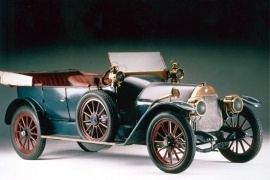 1910 1913
Every story has a beginning and, for the Italian brand Alfa Romeo, the ALFA 24 was the first sentence of one of the greatest carmakers in history.
On June 24, 1910, a group of investors created the Anonima Lombarda Fabbrica Automobili (The Lombardian Anonymous Automobile Factory). They bought Portello workshops from the Darracq Automobile Company, which was a French carmaker. But the Italian engineers were already ahead of schedule and ready to introduce a new model on the market. It was a daring project, but it proved to be successful.
The Alfa 24 HP took its name from the tax-power based on the vehicle's actual power related to the engine size and several other factors. Lead-engineer for the new project was Giuseppe Merosi, who was already a skilled car engineered who previously worked for other carmakers such as Bianchi and Fiat. His work for the ALFA 24 started in autumn 1909, and in 1910, the car was ready to roll.
He used his previous experience and made a straight chassis with leaf-springs and solid axles both front and rear. But Merosi was more than just an engineer. He understood the importance of racing and convinced the ALFA's management to enter a race in 1911. They did. Even if both cars retired (one due to an accident and the other due to the driver's physical exhaustion), the car was noticed, and the orders for the ALFA 24 started to pile-up.
Eventually, the 4.2-liter car that could develop up to 110 kph (68 mph) became notorious. Alfa built over 200 chassis from the 24HP model. It was also the car chosen by the supreme command of the Italian Army during WWI.
Full Description and Technical Specifications