CHEVROLET Cruze - 5 doors
Generations Timeline, Specs and Pictures
CHEVROLET Cruze - 5 doors Cruze Hatchback
2018 2022
The new Chevrolet Cruze and Cruze Hatchback models receive a new exterior design for 2018, starting with the front grille.
The engines and transmissions are the same as the previous models, but the six-step manual is no longer (GM quotes an absorption rate of only a few percent). The 1.4-liter inline-four turbocharger with 153 hp (112.5 Kw) and 240 Nm (177 lb-ft) of torque with a six-speed automatic and the 1.6-liter turbo diesel engine with 137 hp (101 Kw) and 325 Nm (240 lb-ft) is expected to deliver even better fuel economy, up to 47 mpg, with the exclusive nine-speed diesel engine.
Full Description and Technical Specifications
CHEVROLET Cruze - 5 doors Cruze HB5
2011 2022
Since its introduction on the market in 2008, the Cruze sedan was well received in various markets around the world.
The European market asked for a hatchback version, though, which came in 2011 along with a facelift for the entire range.
From the outside, the Hatchback looks exactly like the sedan up to the B-pillar. Same separation bar across the the radiator grille, same aggressive lines and sharp-looking headlights. In the rear part, the C-pillar is wider and makes a connection with the shortened trunk. The taillights are different than those installed in the sedan and are following the side median line, which starts ascending from the front fenders.
From the facelift onward, the driver information center was offered standard on all trim levels: LS, LT and LTZ. In the center console, an USB plug was offered for connectivity with MP3 players or iPod. Android Auto or Apple CarPlay were not available. Also, a navigation system wasn't offered. On the other hand, a 60/40 split rear backseat was offered to extend the 415 l (14.5 cu-ft) trunk space.
Under the hood there were two gasoline units: a 1.6-liter, a 1.8-liter and a 2.0-liter turbodiesel. Manual and automatic transmissions were offered, most of them with 6 speeds. Performance was good for its class, especially if equipped with the diesel engine, which had 163 hp and 360 Nm (265 lb-ft) of torque.
Full Description and Technical Specifications
CHEVROLET Cruze - 5 doors Cruze Hatchback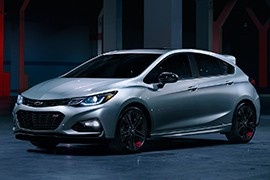 2017 2018
The 2017 Chevrolet Cruze hatchback debuted at the 2016 NAIAS, being developed on the same platform as the sedan.
Sharing the latter's wheelbase, the hatchback comes with its unique roof and rear end, including wraparound taillights and an integrated spoiler. An all-new, more rigid and lighter architecture is the Chevrolet Cruze's foundation for driving dynamism, while also playing a significant role in safety and efficiency. It is more than 200 pounds (91 kg) lighter than the previous-generation model due largely to a body structure that is 100 pounds lighter and an engine that's 44 pounds (20 kg) lighter.
Full Description and Technical Specifications