FERRARI 125/159 S
Generations Timeline, Specs and Pictures
FERRARI 125/159 S 159 S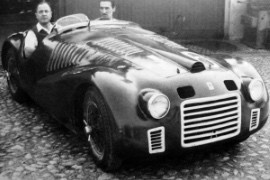 1947 1948
Built as as successor for the 125 S, Ferrari's own first car, the 159 S two-seater was built in a single unit, looking almost as its predecessor apart from some extra vents at the front.
The Ferrari 159 S used a similar tube frame chassis and suspension as the 125, but under the hood was a bigger, more powerful 1.9-liter V12 engine. The 5-speed manual transmission was retained.
The car debuted at the 1947 at the Circuito di Pescara, but its racing career wasn't as great as the 125's. As with its predecessor, the car got disassembled and the parts were allegedly used to build the 166 Spyder Corsa.
Full Description and Technical Specifications
FERRARI 125/159 S 125 S
1947 1947
This car started everything in Maranello, from a factory that was bombed in WWII.
A car which was the foundation for one of the greatest sports cars in history: the 1947 Ferrari 125 and the racing sibling, the 125 S.
In the brinks of WWII, Enzo Ferrari was ready to start the car production, but he had an agreement with his former employer, Alfa Romeo, to not put his name on a car for 5 years so he built the Auto Avio Costruzioni 815 in 1940. Then everything was stopped by the war. In 1944 and 1945, the factory was bombed three times. Enzo Ferrari and his workers survived and, as soon as the peace was installed, they started to work on a new car.
The desire for sports cars didn't stop Enzo. In 1947, the world was struggling to recover and most car-makers started to work on economic models. But no, Enzo built the 125. He used its experience in motor racing and in the production of the Avio 815. The bodywork was an open-top roadster with two seats.
The car featured the same wheelbases as the Avio Costrizioni but with an independent front suspension with unequal double wishbone arms and a transverse leaf-spring. In the rear, there was a live axle with semi-elliptic springs, dampers and anti-roll bar.
Under the hood. the engine had the same 1.5-liter displacement as the Avio 815, but it was completely new. It was a V12 unit that boasted almost 80 hp/liter without the aid of any turbocharger. That was a very high value for those times. He could only build two cars: a 125 and a 125 S. The latter raced two weeks after it was manufactured and it lost due to a failure of the fuel pump.
Full Description and Technical Specifications