MAZDA Flairwagon
Generations Timeline, Specs and Pictures
MAZDA Flairwagon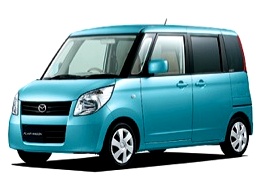 2012 2013
Suzuki Forenza was a badge-engineered first-generation Daewoo Lacetti, and the Japanese carmaker sold it in North America in its own dealership network.
Daewoo was already facing financial troubles and tried to find a way to get more money. The badge-engineered Forenza was a good option. Thus, Suzuki could expand its range while Daewoo could breathe and hope for better times. The solution seemed to be a win-win situation, but it wasn't. Daewoo failed and was bought by GM while Suzuki had to pay the bills for the defective cars, and they were a lot.
Pininfarina studios penned the station wagon version, and it was a good-looking vehicle for its class. At the front, the one-slat grille with a chromed rim at the upper side induced the idea of an upmarket vehicle. The front bumper and the spoiler were re-designed by Suzuki. Pininfarina created the vehicle with clear, sharp lines and a tall tailgate with a low trunk sill cut into the bumper.
Inside, Suzuki offered the Forenza with good features such as front and side airbags, power windows, mirrors, and locks, plus a CD/MP3 stereo with steering wheel buttons. The bucket seats were designed with the European market in mind but featured small side bolstering, while in the back, the car provided enough room for three adults. Thanks to its flat-folding rear bench, the Forenza's trunk reached 1,410 liters (49.8 cu-ft).
Under the hood, Daewoo offered the re-badged Lacetii with a 2.0-liter engine paired to a five-speed manual and offered a four-speed automatic as an option. Despite the good interior features, the ABS was not a standard, but the disc-brakes in all corners did.
Full Description and Technical Specifications