PORSCHE 911 Sport Classic
Generations Timeline, Specs and Pictures
PORSCHE 911 Sport Classic 911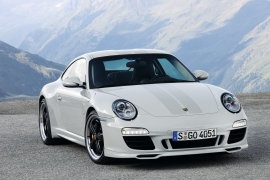 2010 2012
In 2009, at the Frankfurt Motor Show, Porsche introduced a limited series product, which resembled the legendary 1973 Carrera RS 2.7. It was the 911 Classic and it was built in 250 units.
The Porsche 911 Sport Classic was built to resemble the legendary model that was built for racing. Customers from around the world bought the Carrera RS to get the gold on various tracks around the world.
All the 250 models were painted the same, with a Sport Classic Grey and two stripes running from nose to tail. The two-bubble roof style resembled the former racing cars that had those bumps to accommodate the helmets of the driver and the co-driver. In the rear, a duck-tail engine lid resembled the 1973 Carrera RS 2.7 model. On the sides, the special design for the light-alloy wheels resembled the Fuchs design from the legendary Porsche car. The wide bodywork was taken from the standard 997.2 Carrera S.
Inside, the car featured a different background for the dials, with the same pattern as the car itself: light-gray with two stripes. The leather upholstery and the aluminum gear-stick and handbrake were part of the Sport Classic legacy. The bucket seats in the front were fitted as standard and the three-spoke steering wheel with hand-made stitches looked classic.
The 911 Sport Classic featured the widest rear tires from the 2010 Porsche 911 lineup: 305/50 ZR19 fitted on 11 x 19" light-alloy wheels. The chassis featured standard PASM and it was lowered by 20 mm (0.8") than the standard Carrera. The engine was an upgraded version of the 3.8-liter unit to produce 408 hp and it was paired with a 6-speed manual only. The power went to the rear wheels via a limited-slip differential.
Full Description and Technical Specifications