BMW 303
Generations Timeline, Specs and Pictures
BMW 303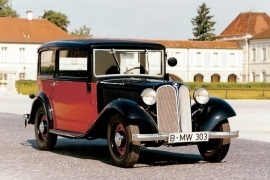 1933 1934
The BMW 303 was the first BMW that featured the "kidney-grille" and the first BMW that featured an inline-six engine.
It was produced between 1933 and 1934.
The first BMW was the Dixi 3/15, which was a license after the Austin Seven. The German car-maker modified the engine to produce more power but it was just a step before their first designed and engineered car, the 303. Despite the Great Depression, BMW launched the new 303 in February 1933 with an elegant body style and rounded corners. The 303 was available in four choices: closed sedan, cabriolet, sport-cabriolet with two seats, and chassis. The car was an instant hit and was sold in 2300 units in just two years. By those times standards, it was a success.
At those times, there was normal to buy a chassis from a car-maker and the body from a coachbuilder and, while some worked with Spohn, BMW worked closely with Glaser.
For the closed sedan bodywork, BMW worked with Mercedes-Benz, who helped them create a good quality interior. The instrument panel featured just two dials for the speedometer and the fuel gauge.
The tubular chassis with rear axle and front independent suspension with a transverse leaf spring was features unseen on those times. The light construction and the powerful six-cylinder engine were strong enough to propel the car at decent speeds. The RM 3600 price for the sedan was smaller than the price asked by Mercedes-Benz for the 170 model.
Full Description and Technical Specifications