BMW M4 GTS
Generations Timeline, Specs and Pictures
BMW M4 GTS F82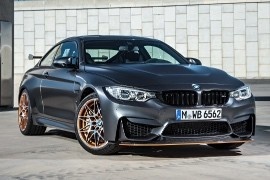 2015 2016
Designed as a track-car able to go on normal roads, the BMW M4 is the ultimate race car with plates, which you can drive daily and thrash around corners during the weekend racetrack.
The car continues the tradition started more than 40 years ago with the mighty BMW 3.0 CSL "Batmobile" and continued with the E36 M3 GT and GTR, E46 M3 CSL and GTR (with a 4.0-liter engine), and E92 M3 GTS and CRT.
Under the hood, there is the same 3.0-liter six-cylinder unit in the normal M4 but with a substantial power increase. To increase the output, BMW used an innovative water injection technology raising the power up to 500 hp and 600 Nm (442 lb.-ft) of torque. This makes the BMW M4 GTS the most radical and dynamic model in the range. It can get a 0-100 kph (0-62mph) sprint in 3.8 seconds. The top speed is limited to 305 kph (189.5 mph). The transmission is via a seven-speed double-clutch gearbox, (M DCT). To lighten the car, BMW used lightweight materials, carbon fiber and CNC-machined mounts fixed to the CFRP trunk lid.
The light-alloy wheels are specially designed and are fitted with Michelin Pilot Sport Cup 2 tires (front: 265/35 R19, rear: 285/30 R20), which are adapted specifically to the BMW M4 GTS.
Full Description and Technical Specifications