CHRYSLER 300C Touring
Generations Timeline, Specs and Pictures
CHRYSLER 300C Touring SRT8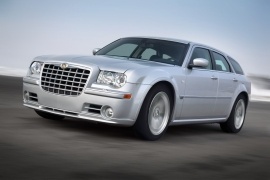 2006 2010
Launched in 2005 as a 2006 model, Chrysler 300C Touring SRT8 was the station-wagon version for the Chrysler 300C, but with a much more powerful engine.
The special version was available for Australia and Europe only, while in the U.S. the fast-station wagon was produced as a Dodge Magnum. The inside quality materials were different and the Chrysler management decided to push the 300C sales with the introduction of a flagship fast enough to take on the likes of Audi RS6 Avant and the BMW M5 Touring.
Viewed from the front, the special version didn't offer any clue about the massive power underneath the hood. It looked like a regular 300C Touring, with the same grid-style grille and headlights. No special air-vents or massive spoiler was installed. It was a factory-sleeper car.
The interior of the Chrysler 300C Touring was large enough for five people. With its very big trunk of 770 liters (27.7 cu-ft), which could have been extended to 2010 liters (71.1 cu-ft) with the rear seats folded down, it was a very good alternative to a very fast MPV.
For the engine compartment, Chrysler 300C SRT8 version came with the 6.1-liter Hemi engine, which produced 425 hp mated to a standard 5-speed automatic transmission. Its platform was a mix of Chrysler and Mercedes-Benz E-Class, with the rear axle carried over from the German partner. The car was developed during the DaimlerChrysler Alliance time.
Full Description and Technical Specifications
CHRYSLER 300C Touring
2004 2010
Chrysler first revealed the new 300C Touring model at the 2004 Geneva Auto Show.
As compared to the base model - the 300C - the Touring version featured a longer body and greater interior spacing. More than that, though, the 300C Touring benefits from optional 4-wheel-drive system. This model was only available for the European and Australian markets. It came with a choice of 3 petrol engines - 2.7-, 3.5- and 5.7-litre - and the 3.0L V6 diesel unit. Chrysler's "MyGIG" Infotainment System and SIRIUS Satellite Radio came as standard options in the following years.
Full Description and Technical Specifications