FIAT 1100 D Station Wagon
Generations Timeline, Specs and Pictures
FIAT 1100 D Station Wagon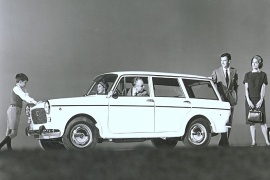 1962 1968
The third and last generation of the Fiat 1100 D was introduced in 1962 as a sedan and as a station-wagon, named Familiare (Family).
While the times were changing, the Italians made a new vehicle for the middle-class. The small, 600 model was good as an entry-level, but it was not big enough to carry four-five passengers on medium or long distances. The new families needed a more spacious vehicle, and Fiat tried to bring them into their showrooms.
The Fiat 1100 D was considered a modern car for its era with rounded edges and round headlights, but it had nothing special on it. Like the sedan, it featured a rakish windshield and slim B-pillars. From the slim C-pillars behind, the car was different than the sedan. Like any other station-wagon, it featured another set of windows on the sides of the trunk area. The tailgate could have been open with hinges on the side, not on top in the rear.
Inside, the carmaker installed a plain dash panel with an ashtray on top, in the middle. There was no center stack or center console, and the gear-selector was mounted on the steering column. The hand-brake was placed on the floor, though, on the driver's side. Fiat installed a unitary system for the instrument cluster, with the speedometer, warning lights, and all of the other dials into the same casing. There were two seats at the front and a bench in the back with a folding seatback to expand the trunk area.
Fiat offered the 1100 D with only one engine option paired to a 4-speed manual gearbox under the hood.
Full Description and Technical Specifications