FIAT 1100 E
Generations Timeline, Specs and Pictures
FIAT 1100 E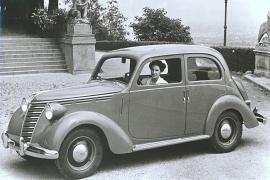 1949 1953
The Fiat Automobiles company was the largest car manufacturer in Italy.
Giovanni Agnelli was one of the founding members of Fabbrica Italiana di Automobili Torino.
Fiat had started producing way back in 1899, with their first Fiat model, the Fiat 4 HP. At first, Fiat had only 35 staff members that managed to build 24 cars. With the staff's talent and creativity, they managed to manufacture more and more units, only to start public selling in 1906 when more than 1000 cars were already produced.
The 1100E was released in 1949 as the postwar version of the original 1100. The predecessor, FIAT 1100, was a small family car, produced between 1937 and 1953.
The 100E was a 4-door sedan, having a 4-cylinder engine with 1089 cc. Estimations reveal that the car was able to accelerate from 0 kph to 100 kph in 48.5 seconds. It was a gasoline engine, mated with a 4-speed manual gearbox which sent the power to the rear wheels.
The E model had a curvier trunk but retained the same dimensions as the original model. The car was at the same time available on the market in the 508C and the 1100B long wheelbase versions. The 508L version was mainly used at the time as a van or a taxi.
Full Description and Technical Specifications