NISSAN Cube
Generations Timeline, Specs and Pictures
NISSAN Cube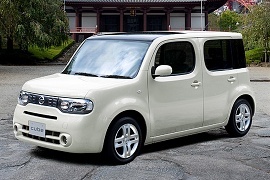 2008 2022
Featuring an unique styling appealing to the younger, the Nissan Cube was a small spacious car designed for the small Japanese families.
While the Cube shared its platform with the Nissan Micra, the small car offered lots of room, more than many mid-size cars had.
Relatively comfortable, the Nissan Cube had a big bench in the back and the rear occupants benefited of plenty of headroom. However, legroom was limited.
Inside, the Cube was nothing fancy, but featured lots of storage spaces even under the bench.
Surpsingly, the front seats - well, actually, the two-person bench was fully reclinable and met the rear seats creating a giant chaise lounge. Probably the Cube made a good home too. Or, at least, not finding a room to book wasn't such an issue.
Not very powerful, but enough to make a good ride, the Cube was available with a CVT transmission that made the most of the engine. And it was also very economical in this combination.
Around town, the Cube could keep up with the traffic, but taking it out on the highway was not a good idea.
In Europe, the Cube was powered by a 1.5-liter diesel or a 1.6-liter gasoline engine. Different powertrains were available for other markets.
Full Description and Technical Specifications