PEUGEOT 307 Sedan
Generations Timeline, Specs and Pictures
PEUGEOT 307 Sedan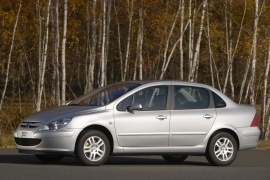 2006 2008
Peugeot introduced the 307 Sedan for the South American market in 2006, and it was the fifth model built by the French carmaker in Argentina.
The French carmaker refreshed the 307 range in 2006 for the South American market and, along with the upgraded hatchbacks, introduced a new body version; a three-box sedan. Since it was longer than its siblings, it provided more trunk space without giving up the interior comfort, and the added weight didn't affect the car's performance.
At the front, Peugeot kept the same front fascia as its 2006 stablemates, with the same elliptic headlights and the four-slats grille from the apron. The body-colored door handles and mirrors confirmed that status. The carmaker made a raked-forward windscreen at the back and included a small, triangular window behind the rear doors. Its reshaped taillights avoided the trunk lid and covered only the car's corners.
Inside, Peugeot offered the car exclusive features such as leather upholstery and chromed trims around the gear-selector. A set of brushed-aluminum-looking decorations adorned the center stack, encircled the vents and the interior door handles. Moreover, the front seats sported individual armrests. In the back, the 307 Sedan offered enough legroom and headroom for two adults, but the hip room was limited, and the bench could host three people on short trips only. The extended trunk provided 509 liters (17.9 cu-ft) of space, enough for medium and long journeys.
Under the hood, Peugeot installed a choice of three engines. The base version featured a gasoline 110 hp 1.6-liter followed by a 2.0-liter, 143 hp unit. A 2.0-liter turbo-diesel that provided 90 hp was available in selected countries. All versions featured a standard five-speed manual gearbox, with an option for a five-speed automatic for its most potent gasoline powerplant.
Full Description and Technical Specifications