RENAULT 18
Generations Timeline, Specs and Pictures
RENAULT 18 Estate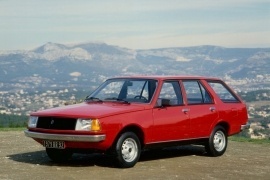 1979 1984
First unveiled in 1978 at the Geneva Auto Show, the Renault 18 was produced in two body styles, a 4-door sedan and a 4-door estate.
What's interesting is that the Renault 18 is the first car ever manufactured by the French company which was supposed to be marketed worldwide, being produced in numerous plants around the world and exported into several new markets.
The 18 Estate, or Break as it was called in France, was mechanically identical to the sedan version. The model was available in only two trim levels and for some markets it came with and all-wheel drive setup.
Full Description and Technical Specifications
RENAULT 18
1978 1984
Introduced to the market in late 1977 and showed at the Geneva Motor Show in the spring of 1978, the Renault 18 was a little more than a re-bodied Renault 12, a car that was state of the art in 1969.
The Renault 18 might be considered the first World Car produced by Renault since it was manufactured or assembled in 10 countries around the world. Before that, it was the Renault 12 that was built in several countries, including in communist Eastern Europe. The 18 shared numerous parts with the Renault 12, but only in the first few years of production.
The square headlights, the grille with horizontal slats, and the compact, three-box, bodywork were considered modern for the time of its appearance. The three-studs wheels though were not. But that was changed in 1980 for the turbocharged version and, since 1983, for the whole Renault 18 range. The door handles were flush to the bodywork and the car was available with an option for alloy wheels.
Inside, the vehicle offered room for four passengers and it featured options such as air-conditioning, power windows and locks, and even a radio-cassette player. Later on, 3-speed automatic transmission was offered for specific models.
Renault 18 was exported in the U.S. and re-engineered by the AMC company for the U.S. and Canadian market with bigger bumpers and fuel injected engines. The basic models featured front disc-brakes and drums in the rear, but for specific models there were four-wheel disc-brakes.
The car was produced also in Argentina until the mid-'90s, while in Europe it was withdrawn from the market in 1989.
Full Description and Technical Specifications