TOYOTA Corolla Liftback
Generations Timeline, Specs and Pictures
TOYOTA Corolla Liftback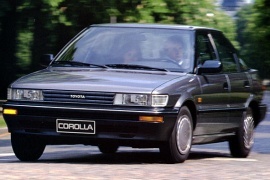 1987 1992
Back in 1987, Toyota introduced the sixth generation of Corolla, a new model of the popular car which was now available in multiple body styles as it follows: 4-door sedan, 3- and 5-door hatchback, 2-door coupe, 5-door station wagon, and 3-door liftback which can be seen here.
The liftback version was available on multiple markets and was promoted under different names. For example, it was named Cielo in Japan while on the European market, it was sold just as Corolla. The Irish liftback was nicknamed Sprinter GLS as Sprinter was an alternative name for Corolla on different markets.
Full Description and Technical Specifications
TOYOTA Corolla Liftback
1992 1944
Toyota continued the Corolla series in 1992 with a facelifted version which was implemented on all body styles of the car, including the 4-door sedan, the 3- and 5-door hatchback, the 2-door coupe, the 3-door liftback and the 5-door station wagon.
Moreover, the company continued to market the liftback as Corolla Sprinter in multiple European countries, but the model was mostly known as Corolla liftback. Similar to the other versions of the car, the liftback could be equipped with multiple engines, ranging from 1.3 liter gasoline to 2.0 liter diesel, producing between 72 and 120 horsepower.
Full Description and Technical Specifications