VOLVO 345
Generations Timeline, Specs and Pictures
VOLVO 345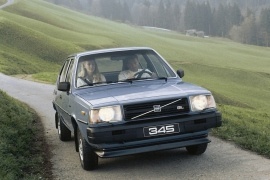 1979 1982
When Volvo acquired DAF's automobile division, it had a pleasant surprise: the Dutch engineers already had a plan for a new compact car born as the Volvo 300 series.
DAF was losing money with its automobile range and got rid of it at the beginning of the '70s. On the other hand, Volvo needed a factory inside the European Economic Community (EEC) to sell its vehicles without custom charges. Thanks to its deal, it produced the 300 series in Netherland, where DAF used to make its cars.
The 345 was introduced in 1976 on the compact segment. Its design was affected by the rear-wheel-drive platform and made the car moved to the rear. Its leaf-springs were easy to spot under the rear quarter panels. Most of its lines were straight, but the overall design imagined by Bertone was appreciated by the customers. According to the Volvo naming system, it was a 3-Series with a 4-cylinder engine and 5-doors (hatchback).
Inside, due to the transmission tunnel and the short wheelbase, it was hardly room for five adults for a long trip. But it was manageable to use inside cities. Its square-looking dashboard design and instrument cluster were part of the brand's design language, and it didn't seem out of pace.
Under the hood, the 345 featured a choice of two engines. The 1.4-liter was supplied by Renault, while Volvo developed the 2.0-liter unit in-house. Both were paired to a 4-speed manual transmission.
Full Description and Technical Specifications