BMW 1 Series Sedan
Generations Timeline, Specs and Pictures
BMW 1 Series Sedan F52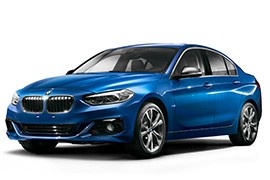 2017 2022
BMW introduced the 1 Series Sedan for China and made a true contender for the Mercedes-Benz's CLA on the local market.
While in the U.S. and Europe the Mercedes-Benz CLA was the only contender in the small-class premium segment, the BMW considered that it might be a good idea to challenge their traditional competitors only in China. The reason behind that decision was the half-of-million car sold in 2016 over there. Dr. Ian Robertson, BMW AG Management Board member responsible for Sales and Marketing BMW, stated that the Chinese customers asked for smaller vehicles, which were suited better in heavy traffic.
Thanks to its front-engine, rear-wheel-drive layout, the carmaker was able to make the 1 Series sedan short but with a mid-size segment wheelbase. At the front, the aggressive look of the angled headlights and the wide "kidney-grille" were specific for the Bavarese brand. Its fluid lines, with curved and sculptured door panels, offered the same image of a bigger car, but in a smaller package. The 1 Series sedan featured a 3-Series style for the taillights and a tall trunk in the back. Depending on the engine version, it sported one or two exhausts at the bottom of the rear apron.
Inside, the carmaker used the same parts and bits offered in the 1-Series hatchback. Its black dashboard with soft materials and the floating-type touch-screen above the center stack looked familiar for the entire BMW range from those times. Depending on the customer options and engine version, the carmaker offered a pair of standard bucket seats or sports seats, with cloth or leather upholstery. The bench was 40/20/40 split-folding, allowing the user to expand the trunk area.
Under the hood, BMW installed a choice of three engines range between 136 hp and 231 hp. All versions were paired to automatic transmissions.
Full Description and Technical Specifications