CITROEN C-Zero
Generations Timeline, Specs and Pictures
CITROEN C-Zero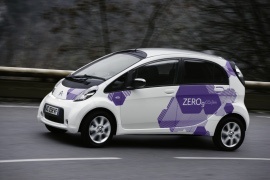 2010 2022
The 3.47 m long city car was the Citroen's first electric car, with zero CO2 emissions and zero noise.
The C-Zero shared the same base as the Peugeot iOn and Mitsubishi i-MiEV siblings.
The engine was powered by a Lithium-ion located in the center of the vehicle.
The theoretic range was of 150 km, while Citroen communicated a real autonomy between 100 and 120 km.
Recharging the C-Zero's battery was easy by connecting the power cord to a 220V outlet, taking around 11 hours for a full charge. A fast charging station would reduce the charing time considerably, taking only 30 minutes for an 80%.
The interior space was good in the front and decent in the back. The load area, however, was at a 166-liter capacity, more like an enlarged glovebox. If necessary, the rear seats could be folded to increase the trunk space at 860 liters.
Being designed as a city car, the C-Zero had a smooth steering and was easy to drive around town.
The C-Zero's interior was clean, with intuitive simple controls. An LCD display gave information regarding the battery's stats.
The C-Zero was equipped with air conditioning, radio remote control, electric windows, ESP and 6 airbags.
The C-Zero's price was around $36.000.
Full Description and Technical Specifications