CITROEN DS5
Generations Timeline, Specs and Pictures
CITROEN DS5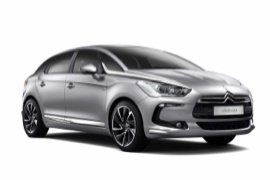 2011 2022
A new premium 5-door hatchback from Citroen was released in 2011.
It borrowed the C4's platform and added cutting edge technology and style.
The shape was of the DS5 was rather unconventional, with a lowered roofline, but still not a coupe, not a sedan, could we call it a hatchback coupe?
The exterior was not out of the ordinary, but it wasn't an ugly car either. The chrome detailing was used in excess from the front to the back.
The interior was nice, clean, with leather wrapped very comfortable seats.
Different from any competing model, the DS5 had most of the controls were placed where we would usually see an SOS button in a BMW: top right the driver's head. This unusual placing of the buttons gave the sensation of a sports car.
The buttons and knobs on the dashboard were designed to look like shiny jewels.
The seats in the back were not exactly designed for adults, due to the limited headroom – remember the lowered roofline?
The DS5 was offered with both diesel and petrol engines, as well as a hybrid.
The cargo area was not impressive but could easily be enlarged by folding flat the seats in the back.
Going on a long trip with the DS5 was pleasant, but not that fun on demanding roads as the steering was not very precise.
The French were looking to offer a premium way of transportation, different from the Audi A4 that was its direct competitor.
Full Description and Technical Specifications