MERCEDES BENZ GLC Class
Generations Timeline, Specs and Pictures
MERCEDES BENZ GLC Class GLC X253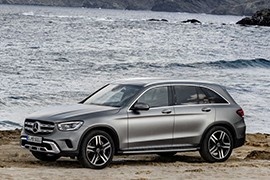 2019 2022
The compact-sized SUV from Mercedes-Benz is offered either as an SUV-coupe or as a regular SUV.
The 2019 facelift version shows new upgrades both aesthetically and technically.
On the outside, one can see the main differences on the front fascia, where the facelifted version has a different design, with bigger and better-contoured LED headlights, while full LED tail lamps are standard on the entire range. Newly designed 18 and 19 inch wheels and minor changes were made so the buyers will see why they are paying more.
The biggest changes are on the inside. Optional, the GLC can be ordered with a 12.3 inches display in the dashboard. The center display, with a floating design, has a 10.25-inch size and HD resolution. The driver can command the infotainment system in five different ways. Either via touch-control on the multimedia display, the touch-control buttons from the steering wheel, multifunction display, multifunction touchpad on the center console and gesture control. Last but not least, it can be commanded via voice control by saying "Hey Mercedes".
Mercedes-Benz offers choices of gasoline and diesel engines, with four cylinders. The gasoline engines are offered with a 48-volt architecture and a belt-driven starter-alternator, which helps to lower the fuel consumption. The facelifted GLC comes with a 9-speed automatic transmission and all-wheel-drive for the entire range.
Full Description and Technical Specifications
MERCEDES BENZ GLC Class GLC X253
2015 2019
In 2015 Mercedes-Benz launched the second generation of its compact class SUV.
The carmaker re-badged the GLK as a GLC, but the differences are bigger than a name change. The GLC represents a departure from its ancestor – the G-Class - and adds more comfort and better on-road capabilities.
The interior has been reworked and now offers a better atmosphere, which is a brand hallmark, courtesy of high-class materials, such as nappa leather or open-pore wood trim. Also, there is substantially more luggage space in the trunk. A large panoramic glass roof is optionally offered to enhance the light and improve the airy feel.
All models comply with the EU6 emissions as standard. With the GLC 350 e 4MATIC, Mercedes-Benz is offering a plug-in hybrid that combines the merits of all-wheel-drive with the lowest fuel consumption. Its performance is not affected since it can reach a top speed of 235 kph (146 mph) with a best-in-class system output of 320 hp.
The semi-electric vehicle has a range of 35 km (21 miles) in zero-emission all-electric mode, accelerating from 0 to 100 kph (0-62 mph) in 5.9 seconds if necessary, courtesy of the boost function. Like its plug-in big brother, the S-Class, the GLC 350 e 4MATIC offers all the characteristic comfort and efficiency systems found on the regular GLC.
Full Description and Technical Specifications