OPEL Insignia Country Tourer
Generations Timeline, Specs and Pictures
OPEL Insignia Country Tourer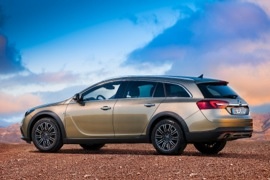 2013 2022
After the success recorded by other car-maker with lifted station-wagons, Opel re-worked its large Insignia Sports Tourer and gave it a rugged-ish look.
The Insignia was introduced to the market in 2008 and the station-wagon version was named Sports Tourer. It was a replacement for the Vectra and Signum as well. It could have been a fleet car, a family car, or an executive vehicle, depending on the options. The Country Tourer version was addressed for families who want to go out with bikes and tents in remote areas where are no roads.
The Country Tourer was raised-up by 20 mm (0.8"). Opel has included anthracite-colored protective cladding on the side sills and lower body, to lend the wheel-arches a more pronounced and flared appearance. Tinted headlights with LED daytime running lights were fitted as standard. The taillights were LEDs as well. On top of the car, the Country Tourer featured roof rails nicely curved to the back.
Inside, the Insignia Country Tourer featured the same interior as in a regular, but in a higher trim level, Insignia Sports Tourer. The infotainment system was offered as standard. It supported Apple CarPlay and Android Auto connectivity along with Bluetooth. Since the car was designed for outdoor activities, a rubber mat was on the options list for the big trunk area.
The Country Tourer was offered exclusively as an all-wheel-drive vehicle. It was offered with a choice of three turbocharged engines, both diesel, and gasoline.
Full Description and Technical Specifications