OPEL Insignia Sports Tourer OPC
Generations Timeline, Specs and Pictures
OPEL Insignia Sports Tourer OPC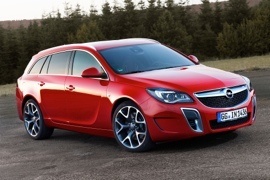 2013 2017
The Insignia Sports Tourer OPC was made for those who were looking for a family station wagon but didn't want to give-up sportscars performance.
Opel introduced a mid-life cycle refresh for the Insignia lineup in 2013. It was a fast station-wagon that could embarrass some sports cars, especially on a winding road.
The Insignia Sports Tourer OPC featured a bigger front bumper with a lower apron and big air-intakes in the middle and on the sides, with satin-silver color for the grille and side scoops. Opel installed a set of 19" light-alloy wheels. The ground clearance was reduced by 10 mm (0.4") than the standard version. Its extended roof was ended into a raked-forward tailgate. In the back, the redesigned bumper revealed two large exhausts on the sides.
Inside, the Recaro-signed bucket-seats promised great support during high-speed cornering. There was room for two adults in the back, maybe three if the middle passenger would like to ride on the transmission tunnel. After 2013, when a mid-life cycle refresh was launched, the driver had a touchpad in front of its left armrest to control the 8" touch-screen infotainment system. The Insignia Sports Tourer version impressive 538 liters (19 cu-ft) trunk with the rear seats up and 1,530 liters (54 cu-ft) with the rear seats folded.
In the technical department, Opel ticked all the boxes that made a normal car a fast one. 2.8-liter V6 turbocharged, all-wheel-drive, and a limited-slip front differential. On top of that, a 6-speed manual or automatic transmission was offered. Adaptive dampers were also installed, with manual settings for comfort or sport mode.
Full Description and Technical Specifications
OPEL Insignia Sports Tourer OPC
2009 2013
This high-performance variant of the Insignia sedan arrives to offer potential buyers a successful combination of power and practicality.
The new Opel Sports Tourer OPC benefits from the updated design and a very fluent and inspired rear fascia. The well know practicality of an estate is coupled now with the thrilling experience provided by the 2.8 V6 turbocharged petrol engine that develops 325 hp and takes the car from 0 to 100 km/h in just 6.3 seconds. To add to that facts sheet are the standard active all-wheel drive system with an electronic limited slip differential for the rear wheels and the FlexRide adaptive suspension.
Full Description and Technical Specifications