PORSCHE 718 Spyder
Generations Timeline, Specs and Pictures
PORSCHE 718 Spyder 982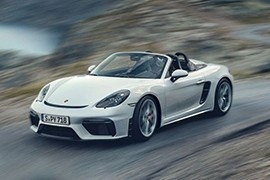 2019 2022
The third generation of the 718 Spyder is based on the current 718 Boxster and, just like its predecessor, comes paired with the 718 Cayman GT4 as the most powerful and sportiest versions of the smallest Porsche models in the lineup.
In other words, both the 718 Spyder and 718 Cayman GT4 share an identical architecture, including a newly developed 4.0-liter, six-cylinder engine, paired with a six-speed manual transmission.
Despite being based on the same engine family as the turbocharged engines in the 991 generation of the Porsche 911, the new 4.0-liter is naturally aspirated. With 420 horsepower and 420 Nm of torque on tap, the model has 45 horsepower more than the previous Boxster Spyder. The new powerplant can help the 718 Spyder hit 100 kph (62 mph) in just 4.4 seconds, toward a top speed of 301 kph (189 mph), just 3 kph less than the 718 Cayman GT4. Despite having a maximum speed of 8,000 rpm and offering the performance and sound of a true GT engine, the six-cylinder Boxer also includes adaptive cylinder control and a gasoline particulate filter (GPF). At part loads, the engine can interrupt the injection process in one of the two cylinder banks to reduce fuel consumption, thus effectively transforming the 718 Spyder into a three-cylinder.
Full Description and Technical Specifications