VOLVO C40
Generations Timeline, Specs and Pictures
VOLVO C40 Recharge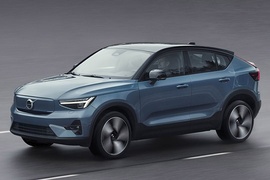 2021 2022
Volvo announced in 2021 that it would get rid of all its internal combustion-engined vehicles by 2030, and the first step was the XC40 Recharge.
The Swedish carmaker was a pioneer in many areas, safety being only one of them. It wasn't that original when it stated that it would use only electric engines, but nevertheless, it was a bold statement for a carmaker that didn't have any electric vehicle in its lineup. The XC40 Recharge was that step and redefined the way Volvo was seen on the market. Apart from its commitment to safer cars, it was a statement for a green future.
In 2017, Volvo launched the XC40, a crossover built on the CME platform shared with its sibling XC40 Recharge. Unlike its IAC-powered sibling, the XC40 Recharged featured a sloped back with a descending roofline that started from the B-pillars. Its tall rear end with an angled windscreen was dominated by a wing on the trunk's lid and the long red lines that formed the taillights.
Inside, Volvo followed the minimalist design concept with a simple dashboard that sported a portrait-oriented screen for the infotainment system. The navigation and sound system also allowed the driver or the front passenger to access the climate control feature. Strangely, Volvo mentioned the connectivity with Google but didn't say anything about the Apple users. Volvo installed a TFT display for the instrument panel in front of the driver, with configurable options.
Volvo announced before the XC40 Recharge that it would limit all of its cars to 112 mph (180 kph) for safety reasons, and the coupe-like crossover respected that decision. Its 300 hp electric motor was fed by a 78 kWh battery pack that could provide a 261 miles (420 km) range.
Full Description and Technical Specifications