BMW M8 Gran Coupe
Generations Timeline, Specs and Pictures
BMW M8 Gran Coupe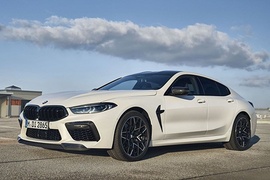 2022 2022
BMW started the 2022 year in full blast by launching a refreshed lineup for the 8-Series in all shapes and sizes, and the Gran Coupe in the M-Spec version also received an upgrade.
While those oriented on speed and handling were more biased on purchasing the coupe version, there was a big market for high-performance four-door vehicles. That's why BMW and Mercedes-Benz brought back the four-door coupe styling initiated back in the '60s by the Mark III Rover P5.
The M8 Gran Coupe shares its underpinning with its two-door, hard-top sibling, the M8. Yet, it boasts a longer wheelbase and could accommodate two passengers in the back. Like its sibling, it featured frame-less door windows, making it look sportier, but the B-pillar had to stay in place. At the front, the Gran Coupe offered the same front fascia as the non-facelifted version, with a wide, trapezoidal air intake on the lower apron flanked by two functional scoops that cooled the brakes.
Inside, the most noticeable change was for the infotainment system, which received a 12.3" touchscreen instead of the former 10.25" one. There was also new hardware for it, allowing better integration with the smartphone. In addition, customers had the option to order it with either standard bucket seats or, as an option, carbon-fiber sport seats that enhanced the sporty character. The M8 Gran Coupe featured a split-folding bench fit for two at the back since there was a tall transmission tunnel that crossed the car from front to back.
Under the hood, the Bavarian carmaker placed the same powerplant as the M8 Coupe mated to an eight-speed automatic gearbox that sent the power in all corners.
Full Description and Technical Specifications