FERRARI F60 America
Generations Timeline, Specs and Pictures
FERRARI F60 America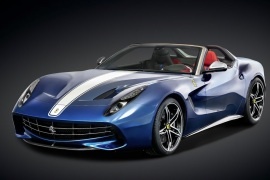 2014 2022
Ferrari decided to celebrate its 60th Anniversary in America with a special model: the 60 America.
An open-to roadster built especially for ten customers.
The first Ferrari ever sold in the U.S. was the Tipo 166 Spyder Corsa. It was a race-car with two seats and no roof. The difference is that the F60 America was not a race-car, but was a roadster well.
The F60 America was based upon the Ferrari F12. It featured the same long hood with a stripe in the middle. The prancing-horse on a yellow shield was applied on the front fenders, just in case that someone wouldn't know that that was a Ferrari. A raked windshield followed. Behind the cockpit, there were two security arches, raked forward and painted in silver. For rainy days, Ferrari designed a special, light, top that could provide some cover for the occupants.
Inside, on the center tunnel, there was another pair of the 60th Anniversary Prancing-horse badge. The driver's area was bigger than its passenger. The asymmetrical design was studied to offer maximum comfort for the one behind the wheel. The sport-bucket seats with leather and Alcantara upholstery designed for maximum support while fast cornering. The F60 America was not just a show car, but a true track-oriented car.
For the drivetrain, the exclusive model was powered by the same 6.3-liter engine from the Ferrari F12, mated to the same 7-speed automatic (dual-clutch) gearbox.
Full Description and Technical Specifications