FIAT 509
Generations Timeline, Specs and Pictures
FIAT 509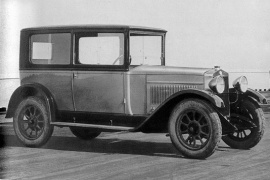 1925 1929
The Fiat 509 was a car designed as a replacement to the dated Fiat 501.
Unveiled at the Milan Motor Show, the Fiat 509 was the first Fiat small car produced in large series at the new Lingotto factories.
In 1928, driven by the French Jacques Bignan, the Fiat 509 was the first model to win the Monte Carlo Rally.
Initially, the car was available with as two-door body style and a 990 cmc engine mated with a 3-speed gearbox.
While the small car had only 2 doors, it managed to offer seating for 4. Moreover, the Fiat 509 could be offered in monthly installments, so that more people could afford it.
An interesting fact for the 509 model was the fact that in 1928 the car was sold with insurance too.
In only one year, the Fiat 509 became the most popular car in the country. It also served as a taxi starting with 1926 when the Fiat 509A was released.
The 509A also featured updated mechanicals such as a redesigned cylinder had, a new lubricatin system and even a new carburetor.
Aside from the 2-door saloon, the Fiat 509 became with other different body styles: torpedo, convertible, coupe and spider.
The Fiat 509 was later replaced by the Fiat 514, after 92,514 units were produced.
Full Description and Technical Specifications