HOLDEN Barina Spark
Generations Timeline, Specs and Pictures
HOLDEN Barina Spark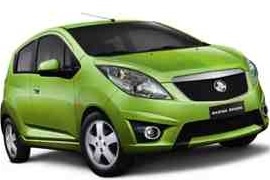 2010 2016
In Australia, Holden is one of the most important brands.
It is well known for its powerful cars and even some modern muscle cars. But the same brand has had some vehicles that might not be very desirable in your garage. The Holden Barina, for instance, was known in Europe as the Chevrolet Aveo and it was based on the former platform of the Daewoo Matiz/Spark. When GM bought Daewoo, part of its products were rebadged and sold under different names around the world. This is how Australians received the Barina. A small car, with a small engine and an automatic gearbox.
It was built for the crowded European cities, but it landed in Australia for some reason. They put a trunk on the two-box design Spark, rebadged it and made it join the cities Down Under. Compared to the previous generation, which was based on the European hit-model Opel/Vauxhall Corsa, the Barina was lacking some appeal.
Hard surfaces inside, cheap materials and close-to-none soundproofing made it a bland vehicle. But still, Holden engineers worked on it to make a better suspension. The engine offered was a 1.6-liter mated either with a 5-speed manual or with a 4-speed automatic. None of them was great, but neither was bad.
Its main advantage was decent fuel consumption and reliable powertrain. The trunk was big enough for most of the families who would buy it for a daily, in-city commute.
Full Description and Technical Specifications