MITSUBISHI Attrage
Generations Timeline, Specs and Pictures
MITSUBISHI Attrage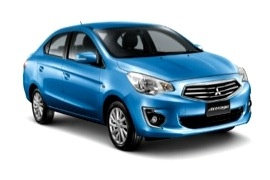 2013 2022
Basically a Mitsubishi Mirage with a trunk, the Attrage was an affordable small 4-door sedan.
A new played in the B-segment market, the Attrage was the first eco-sedan from Mitsubishi.
While it didn't have the most exciting exterior design, the Attrage had a pleasant look with a big chrome grille and classy chrome accents on the sides of the front bumper.
Powered by the same 1.2-liter 3-cylinder MIVEC engine that was mounted on the Mirage, the Attrage had 79 hp. It might sound a little underpowered, but the Attrage was a lightweight 900 kg vehicle and the MIVEC unit offered good torque at all times.
As a result, the fuel consumption was extremely reduced to around 4.6 L/100 km.
Inside, the cabin was fitted with hard plastics, however, everything looked well put together and the gloss finishes added a bit of style to the rather dull interior. The controls were easy to use and intuitively placed, but looked rather dated for 2013.
Great room was offered to the rear occupants, with plenty of legroom and headroom. An armrest was also available in the rear cabin.
Mated with the optional CVT transmission, the Attrage drove smoothly, mostly around town. On open roads, the noise of the engine could have been a little disturbing.
The Attrage was designed for daily city driving and had an attractive price, thus it was a real success.
Full Description and Technical Specifications