TOYOTA Auris Touring
Generations Timeline, Specs and Pictures
TOYOTA Auris Touring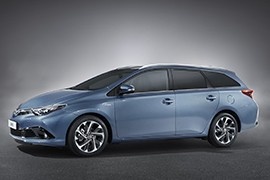 2015 None
The Toyota Auris Touring received a facelift in 2017 which brought sharper looks, more safety equipment, and improved engines.
The most noticeable stylistic change can be seen up front where a new bumper, grille, and headlights replaced the old ones. New rims and a special shade o blue have also been added to the range. The 2015 Auris range further benefits from suspension and steering revisions designed to improve ride comfort, handling and driver involvement. And numerous measures have also been introduced to reduce the transmission of Noise, Vibration and Harshness (NVH) into the cabin.
Full Description and Technical Specifications
TOYOTA Auris Touring
2013 2015
With the 2013 Touring Sports, Toyota entered a market where younger customers are more active.
The market where design meets function and not the other way around. The carmaker took the popular hatchback body of the Auris and made it longer, in the form of a station wagon. The older Corolla station wagon is out and that old-style looking bodywork was replaced with this fresh one, fit for the new generation Touring Sports.
The length has been increased compared with the Auris by 285 mm (11.22 in), but Toyota kept the same wheelbase of 2600 mm (1917.6 in). This distance between the axles is typical for a medium-sized sedan more than for a compact-car. The result is a big trunk, fit to take 530 liters (18.7 cu-ft) with rear seats up, or up to 1658 liters (58.5 cu-ft) of space when the rear seats are folded down.
Moreover, when the bench-seat is folded, the length of the platform is more than 2 meters (6.7 ft) long, which means that if the passengers go camping they can leave their tent at home. And with the optional Skyview panoramic sunroof they might enjoy it better.
Under the hood, Toyota offers five engines variants: two gasolines ones (a 1.33-liter and a 1.6-liter), two turbodiesel (a 1.4-liter and a 2.0-liter), and a 1.8-liter hybrid, which is the same as the one found in the Prius.
Full Description and Technical Specifications