VOLKSWAGEN ID.5 GTX
Generations Timeline, Specs and Pictures
VOLKSWAGEN ID.5 GTX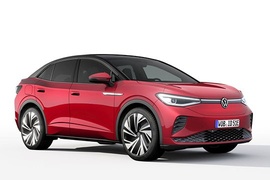 2021 2022
When Volkswagen introduced the GTI badge on the Golf back in the '70s, it didn't know how much of an impact those three letters would make on the market.
So the GTX version of the ID.5 tried to tell the same story to its customers: this is the special version.
Since the ID.5 was a crossover SUV, it didn't feel appropriate to place the same GTI badge on it. Moreover, since it's an electric vehicle, telling that it features a fuel-injected engine wouldn't be something to brag about. But that X was placed there to suggest an all-wheel drive system.
This top version featured the same shape, but there were quite a few details that made a difference. At the front, the GTX featured a wide trapezoidal grille. Inside the vertical side-scoops, the carmaker placed three LED lights, which were not available on the regular ID.5. Another small detail was on the greenhouse. Finally, while the non-GTX version sported a body-colored side arch, the more powerful version featured a black one.
Inside, ID.5 GTX featured sport bucket seats with higher side bolstering. So even though it's hard to believe that someone bought it to race it around town, the carmaker installed seats that provided the much-needed side support. Also, like its sibling, it featured a TFT display mounted on the steering-wheel column, so it moved together when the driver needed to adjust the wheel.
The most crucial difference between these stablemates was for the drivetrain, where the GTX was all-wheel-drive. It was also more powerful, providing almost 300 ponies to the German crossover SUV-coupe.
Full Description and Technical Specifications