MAZDA B Series / Bravo Dual Cab
Generations Timeline, Specs and Pictures
MAZDA B Series / Bravo Dual Cab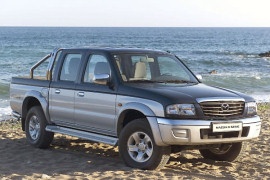 1999 2006
The 1999 Mazda B-Series was mostly a badge-engineered European Ford Ranger, and the two carmakers built both vehicles in a few factories.
Mazda launched the first B-Series utility vehicle in 1961 in Japan, and by 1999 it already gained a reputation for other workhorse offered on the market, but not in Europe. For the European and Sout Asian market, the Japanese carmaker made the B-2500 series in a few body and engine versions, including a four-door variant named Dual Cab.
The Double cab was the Mazda's name for a four-door pickup. Unlike the Freestyle version, it provided better access to the rear seats, but it lost the inside-cabin trunk space. The carmaker had to stick with only one king-size bed in the back, which was mostly enough for families going camping and less as a work truck. Still, it could handle a one-ton load without too much fuss.
Inside, Mazda used a car-like design for the dashboard. Its rounded shapes and clean, uncluttered design made the vehicle more suitable for a leisure pickup than a hard-worker vehicle. Thanks to its sturdy chassis, it was both. The bench offered enough room for two occupants at the back, while a third one had to sit on the transmission tunnel.
Under the hood, depending on the market, Mazda offered the B-Series with its 2.3-liter gasoline engine, Ford's V-6 units, or a 2.5-liter turbo-diesel. All engines were paired as standard to a five-speed manual, while an automatic was available for selected versions.
Full Description and Technical Specifications