PORSCHE Cayenne Turbo Coupe
Generations Timeline, Specs and Pictures
PORSCHE Cayenne Turbo Coupe PO536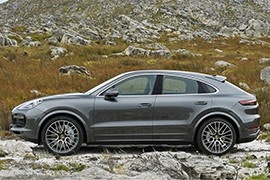 2019 2022
This is how the Cayenne should've looked since the beginning if the Porsche Board would have had guts! But now they fixed it and it looks great.
Not too bulky not too flat, just impressive and bold.
By chopping the roof by almost one inch (20mm) from a regular Cayenne Turbo, Porsche designers made the A-pillars shallower and the back seats have smaller headroom, but thanks to the lower rear seats position compared with the Cayenne Turbo by 30 mm, this will not be such a problem.
On the outside, a 5 dollar look fixed-lip spoiler on the tailgate differentiates the Turbo version from the rest of the range. Usually, there were some big aesthetic differences between the Turbo and the others, but now these are very subtle. Big wheels, big brakes and yellow brake-calipers can be ordered on both the Cayenne S and Turbo versions. The guys with regular Cayenne Coupes will have to paint them by themselves.
The engine, though, it is what we expected. A 4.0-liter V8 twin-turbo engine that offers 550 HP and 770 Nm (568 lb-ft) of torque. This is coupled with an 8-speed automatic transmission. The performances are neck-breaking for an SUV. First 62 mph (100 kph) can be reached in just 3.9 seconds and the top speed is 178 MPH (286 KPH).
Full Description and Technical Specifications