SUZUKI Aerio / Liana Sedan
Generations Timeline, Specs and Pictures
SUZUKI Aerio / Liana Sedan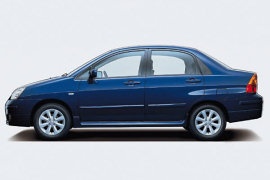 2001 2007
Suzuki made the Aerio/Liana sedan as a replacement for the former Baleno/Esteem and continued the idea of an affordable vehicle with decent on-road performances.
While it wasn't a car to fall in love with, it was that kind of econobox that could take a family from A to B and serve as a commuter as well. Depending on the market, it was available with all-wheel-drive and larger engines. Suzuki offered the top-spec Aerio/Liana sedan only to U.S. customers, while the other buyers had a smaller engine and transmission choice.
The design was not its best part. At the front, it featured a pair of curved, triangular headlights with a two-slat grille between them that sported the Suzuki badge. Its wrapped-around plastic bumper had a broad grille in the middle flanked by two fake scoops, or a pair of fog lights, depending on the option. Still, the carmaker didn't want to cut too many corners and installed a third window behind the rear doors. Thus, it enhanced the driver's visibility and the rear passengers' comfort.
Inside, the carmaker installed a curved plastic dashboard enhanced with light-gray trims on the center stack and air vents. A rounded instrument cluster sported a panel with two larger dials for the speedometer and tachometer and two smaller gauges for the fuel level and coolant temperature, with an option for a digital instrument panel. Despite the car's overall size, the Aerio/Liana sedan offered decent room for four adult passengers.
Under the skin, the carmaker installed a wide choice of engines, both gasoline or turbo-diesel, mated with a five-speed manual. As an option, for specific markets, a four-speed automatic. While the European and the Asian customers received the smaller engines, starting with the 2004 model year, Suzuki offered a 2.3-liter unit. The fuel-efficient 1.4-liter turbo-diesel, carried over from Peugeot-Citroen, was not available in the U.S.
Full Description and Technical Specifications