TOYOTA Agya
Generations Timeline, Specs and Pictures
TOYOTA Agya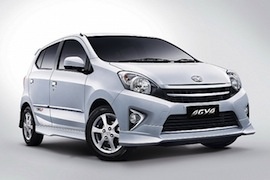 2012 2022
Toyota owned the Daihatsu brand, and it developed a small MPV for specific markets and sold it under both badges for both brands.
In some markets, Toyota didn't want to offer a budget vehicle that could spoil the big company name, so it let Daihatsu sell it as a sub-brand. The Toyota badge was better known in other markets, and it was selected as a preferred brand to sell the small MPV. Unfortunately, the small vehicle was not available in the European or the North-American markets, selling it in significant volumes. Toyota thought it would be better to keep the Aygo/Yaris for those customers.
The Agya's egg shape was interrupted by a few angular lines on the headlights and the aggressive bumper design. On its sides, the ascending line followed a hot-hatch sporty profile, ended with a roof-spoiler mounted on top of the liftgate. Toyota protected the high-mounted taillights for small bumps in the parking lot or by shopping carts in the rear.
Inside, it was surprisingly roomy for its size, thanks to the high seating position and the tall greenhouse. Despite being a small, budget vehicle, it offered adequate comfort features and a sound system with a USB port and a CD-player. The instrument cluster was dominated by a huge speedometer that took center stage and a smaller tachometer on its left side. An LCD took the right side and showed info for the on-board computer.
Under the hood, Toyota installed a choice of two gasoline engines that offered 68 hp and 88 hp, respectively. The carmaker paired both of them to a 5-speed manual while a 4-speed automatic was on the options list.
Full Description and Technical Specifications