ACURA Integra Sedan
Generations Timeline, Specs and Pictures
ACURA Integra Sedan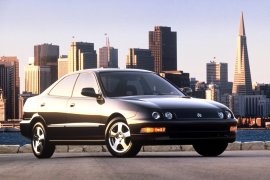 1994 2001
The third generation Integra was introduced by Acura on the North-American market in 1994, one year after Honda launched the same model in Japan.
The novelties about this new Integra Sedan were the new front-end design featuring four headlights and the increased engine power (up to 142 hp). The 1994 Integra sedan underwent its first facelift in 1998, introducing a revised front & rear bumper, larger headlights and minor interior changes. Due to its lower compression, the Acura Integra sedan was rated among the Top 10 most thief-friendly cars in the United States.
Full Description and Technical Specifications
ACURA Integra Sedan
1989 1993
Acura introduced the second generation of the Integra in late 1989 as a 1990 model year, and it showed significant improvements over its predecessor.
When Honda launched the premium brand Acura, decided to build the cars with a completely different design than the Honda branded vehicles. It wasn't just a badge engineering with more features. It was almost a completely different car.
For the second generation, the Integra sedan dropped the pop-up headlights, which were mainstream in the '80s, but tend to disappear from the car fashion list in the '90s. The flat and low design concept gave the driver excellent visibility around the car due to its big and tall windows related to the vehicle's size. Its frameless side windows were not very common for that era.
Inside, the instrument cluster was similar to the one found in the Honda Accord. It was the same simple layout, but easy to read the most important data of the car. The flat dashboard design was not the most attractive feature, but it allowed great visibility to the road ahead. The short greenhouse was a problem for tall adults, but good for the average height ones.
Due to its new platform, with independent suspension in all corners, the Integra was often praised for its road holding in its class. Due to the new, 1.8-liter engine and the lightweight body, it could pull some good results on the acceleration, and it was very fuel-efficient as well.
Full Description and Technical Specifications
ACURA Integra Sedan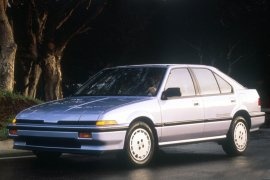 1986 1989
The first generation Integra was introduced to the North-American market in 1986, a year after its launch in Japan.
The new model was addressing the entry premium sector - challenging the Ford Probe, Volkswagen GTI or Honda CRX - and came with a choice of 3-door or 5-door hatchback. Based on the Civic, the all-new Integra featured larger disc brakes and redesigned suspension, as well as stylish exterior lines. It was first available with a 1.6L 113-hp engine (between 1986 and 1987) which later received a 5-hp power boost through an electric advance distributor (1988 and 1989).
Full Description and Technical Specifications