AUDI 80 S2
Generations Timeline, Specs and Pictures
AUDI 80 S2 B4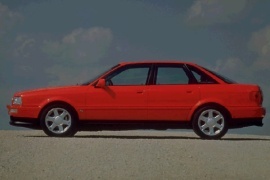 1993 1995
Audi introduced the S2 Sedan in 1993, two years after the unveiling of the S2 Coupe, which shared the same platform.
The performance sedan market and the horsepower war began in Europe when Mercedes-Benz and BMW introduced their E190 2.3-Evo and the M3, respectively. Unlike its main rivals, the four-ring brand from Ingolstadt offered a turbocharged engine and all-wheel-drive traction.
Audi built a factory sleeper long before that term was used on the streets. Apart from the Avus wheels, a few minor changes to the bumper, and the badges on the grille and trunk, it looked just like any other Audi 80 from its generation. Although, a trained eye could have noticed the black apron and side sills. Also, the S2's bumpers were body-colored without the rubber bands on them.
Inside, the carmaker didn't leave the same Audi 80 interior. It installed front bucket seats with high-bolstering to keep their occupants in place during high-speed cornering. In the back, though, it left the same flat bench seat as for the rest of the range. The dashboard was high for those time standards and featured a rounded instrument cluster with white dials and gauges. In the middle, on a small display, it showed data from the onboard computer regarding fuel consumption, average speed, or exterior temperature.
Under the hood, the S2 Sedan carried over the same drivetrain as its coupe-brother. Audi placed a 2.2-liter inline-five turbocharged engine. It sent the 230 hp through a six-speed manual gearbox in all corners via a Torsen-based all-wheel-drive system.
Full Description and Technical Specifications