CHRYSLER Daytona
Generations Timeline, Specs and Pictures
CHRYSLER Daytona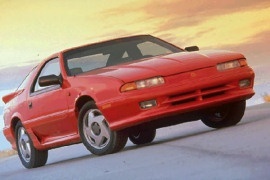 1992 1993
After the second oil crisis, the American carmakers tried to build affordable sporty vehicles for the younger generations, such as the 1984 Dodge Daytona.
The Dodge Daytona/Chrysler Laser was born too early and died too soon to compete against sport-compact coupes' Japanese armada. Since it was introduced in the mid-'80s, it didn't have the latter advanced suspension systems and amenities. On the other hand, when it faced competition from Mitsubishi Eclipse, Honda Civic Si, or Toyota Celica, it was already an outdated car that provided less power than its competitors. In 1992, Dodge introduced the last facelift before the vehicle was withdrawn from the market in 1993.
While the first model appeared with double squared headlights, they were changed to a pop-up system later on. In 1992, the carmaker returned to a fixed-headlamps system in a new, more rounded design that didn't fit well to the car's overall wedged look. Its raked B-pillar was one of the sporty coupe's main characteristics, and its long and sloped rear window enhanced the sporty look.
The sloped dashboard and raised instrument cluster were a good match for a sporty compact coupe, but the squared air vents and tall gear-stick (for the manual transmission versions) were too much of an '80s style. Fortunately, the carmaker installed high-bolstered seats.
Under the hood, Dodge offered three engines, ranged between 100 hp and 224 hp. The middle version featured a 3.0-liter V6 from Mitsubishi. The 2.5-liter turbocharged was the rarest of them.
Full Description and Technical Specifications