FIAT Marea
Generations Timeline, Specs and Pictures
FIAT Marea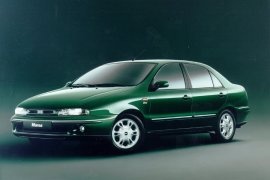 1996 2002
Fiat decided to retire the Tempra and introduced the Marea in 1996 as the company's mid-size sedan on the market.
Fiat built the Marea on the new C1 platform shared with its smaller siblings, the Bravo and the Brava. The Italians had the idea to use the same underpinnings to cut the manufacturing costs and offer the right car at a lower price than its competitors. The result was a good family vehicle, but unfortunately, its sales were down and prevented its wheels from moving into a second generation.
With a front side that resembled the Bravo/Brava lineup, the Marea showed a fresh design style with a narrow front and slim headlights. The rounded corners and curved surfaces were designed at the Fiat design center. The sedan version featured a thicker C-pillar and a short trunk lid with rounded edges. Its taillights followed the rounded-corners design theme of the car.
Inside, the Marea featured numerous storage compartments in the center armrests, door panels, and the rear armrest. There was decent room in the back for up to three adult passengers. The curved lines on the dashboard resembled those on the Bravo/Brava, but with some differences.
Fiat installed a choice of gasoline and diesel engines in the Marea. The latter was very fuel-efficient and had their contribution sustaining the sales figures. But after seven years on the market, the Marea was retired.
Full Description and Technical Specifications