INFINITI G35
Generations Timeline, Specs and Pictures
INFINITI G35 Sedan
2006 2008
After the launch of G35 in 2002, a facelift came in 2005.
The facelift consisted in an improvement of the overall quality. Special attention was given to the inside of the car, with better overall trim levels. The gauges were redrawn and given better back lighting. The dashboard and center console were also redesigned, fitted with aluminum and rosewood inserts. On the outside, the disc brakes were increased and given a better design after a series of complaints on the original model. The suspension was tuned for better performance and a viscous limited slip differential was introduced.
Full Description and Technical Specifications
INFINITI G35 Sedan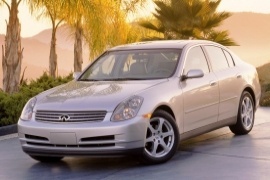 2001 2006
The third generation of the G35 Sedan was a big evolution over its predecessor, which looked more like a Nissan Primera than a premium vehicle.
Nissan already had a very good RWD platform used for the 350Z, and it was cheaper to develop a vehicle based on that than to make a new one from the ground up. By 2001, Infiniti already had won some respect in the premium car market, which helped the G35 with the sales.
In 2001, the BMW 3-Series was the benchmark in the compact-sedan premium-segment. While it seemed difficult, Nissan's premium brand, Infiniti, challenged it with a design and a new platform. With an exterior drawn by Hiroshi Hasegawa, the G35 featured a longer hood, wide grille, and vertically mounted headlights. These details made the car look different in its class. From the sides, the coupe-like rear end of the cabin and the short decklid inspired sportiness.
Inside, Infiniti didn't want to play it light and installed a sport-inspired interior, with an instrument cluster that featured big dials for the tachometer and speedometer. The plastic center stack fascia mimicked an aluminum panel, and it was a pity. Thanks to a pair of front seats with high bolsters on the sides, the front occupants held their place while cornering. In the back, it was enough room for two and minimal for three passengers.
Like in many other situations, Infiniti disappointed the customers with the engine choice because it offered the G35 with only one option: a 3.5-liter V6 paired as standard to a 6-speed manual. A 5-speed auto was available as an option.
Full Description and Technical Specifications