MERCEDES BENZ EQC
Generations Timeline, Specs and Pictures
MERCEDES BENZ EQC 400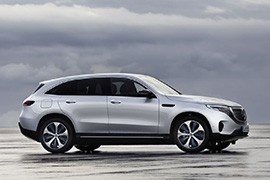 2019 2022
After testing the waters with the B-Class Electric Drive and various electric versions of the smart fortwo and smart forfour, Mercedes-Benz has finally unveiled its first production EV, the EQC.
Also the first model to be produced under the Mercedes-EQ sub-brand, the EQC is an electric-only crossover that's partly based on the MRA (Modular Rear-wheel-drive Architecture) platform. Similar in size with the GLC, the model is powered by two electric motors, one for each axle, giving it a total output of 300 kW (408 PS, or 402 HP) and a tire-scorching 765 Nm (564.2 lb-ft) of torque.
Since each motor powers an axle, the EQC comes as standard with torque-vectoring all-wheel-drive, while an 80 kWh lithium-ion battery designed and built in-house will apparently gift the car with a provisional range of "more than 450 km (280 miles) according to NEDC. The onboard charger (OBC) is water-cooled and has a capacity of 7.4 kW, while Mercedes-Benz says that the vehicle can be charged with a maximum output of 110 kW at an appropriate charging station. The first version's full name is actually the Mercedes-Benz EQC 400, which pretty much means that we will see more than one output and total range from the EQC in the future.
Full Description and Technical Specifications