PEUGEOT 307 3 Doors
Generations Timeline, Specs and Pictures
PEUGEOT 307 3 Doors
2005 2008
Peugeot introduced a mid-life cycle refresh for its compact-segment contender, the 307, in 2005 for all four versions: three- and five-door hatchback, coupe-cabriolet, and station-wagon.
The 307 was already a big success. It was named the "French Golf," and it proved to be a dependable car for its owners. In the three-door version, Peugeot offered it with a sportier version. But the modifications didn't stop just to the bumpers and wheels.
From the outside, the car featured a front fascia that resembled its bigger brother, the 407 sedan. It showed clear headlights and a smiling grille on the apron, under the black rubber bumper protection. The bumper got a cut-out for the exhaust in the back, while on the pre-facelifted version, the pipe was shorter and bent downward. For the GTI version, the 3-door 307 featured a roof spoiler in the back, bigger light-alloy wheels, and an oval exhaust tip.
Inside, the carmaker improved the material quality and the design for the center stack. It also added a new infotainment unit with a navigation system. Also, there were new switches that performed better than before. For the sportiest version, the car featured white dials and red needles inside the instrument cluster.
Under the hood, Peugeot improved its engine lineup. While it dropped the former 1.4-liter turbo-diesel, it left only three oil-burners in the offer. The most potent version offered 177 hp for the gasoline engine, unlike the 143 hp top-performer from the pre-facelifted version.
Full Description and Technical Specifications
PEUGEOT 307 3 Doors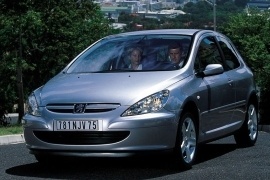 2001 2005
Follower of the 306 model, the 307 was a hit.
In fact, its body lines and overall features have earned the car in its launch year the European Car of the Year award. With a modest choice of engines, the 307 was quick to take on newer engine versions between 2002 and 2004 when the 1.4-liter HDi Turbodiesel, 112 hp 1.6-liter 16v HDi and a a bigger version of the latter were introduced. Fierce competitor against the Ford Focus, the 307 was an overall safe bet except for some minor issues reported on the first batch of cars, regarding poor trim quality and electrical system problems.
Full Description and Technical Specifications