PEUGEOT 508 RXH
Generations Timeline, Specs and Pictures
PEUGEOT 508 RXH
2014 2018
The slightly crossover-ized 508 SW, known as the Peugeot 508 RXH, got a 2014 midlife cycle too, adding small but powerful changes and making it look almost like a new model.
Most design changes can be seen at the front end, where the sedan got new LED headlights, a redesigned split grille, bumper and chrome trimmings. The rear received some nice LED taillamps as well as a slightly redesigned bumper.
Inside, you'll find a 7-inch touchscreen display, a reversing camera feature along with a blind spot monitoring system and phone connectivity. Most buttons have disappeared to leave for a cleaner 308-looking dashboard.
Full Description and Technical Specifications
PEUGEOT 508 RXH Peugeot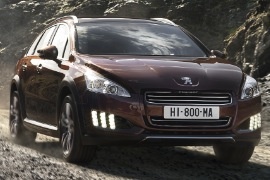 2011 2014
Peugeot struggled to enter into the premium-car segment for years.
It did have some interesting models, but it wasn't quite there. It tried again in 2011 with the 508 RXH.
The French car-maker Peugeot was close to getting in the circle with the 607, but it didn't make it. So it tried again in 2011 with the 508 RXH.
From the outside, it looked just like a regular 508 with 18" wheels and the "HYbrid4" badge on it. Only a highly trained eye would see the 40 mm (1.6") wider track and 50 mm (2") higher difference compared to the other versions of the 508. The modified front bumper, with jet-fighter inspiration details, were more obvious.
Inside, there were more differences. The backlighting of the dashboard and some other interior elements created a nice, exclusive image of the car. A unique, copper shade for some elements was a sign of the car's electrification. These accents are only available on the RXH. The sound system was signed by Bose. The choice of light-colored Alcantara leather and innovative laser-printed fabrics created a two-tone upholstery. The customer could also choose for a full leather or half-leather upholstery.
The drivetrain was a breakthrough in the hybrid technology, with a diesel engine for the front wheels and electric motors for the rear axle. Thus, the combination of the diesel fuel-efficiency was mated to electric motors and gave a total power output of 200 hp to the vehicle. The standard automatic transmission helped in ensuring the transfer from hybrid power to electric-only power and back.
Full Description and Technical Specifications