PORSCHE Macan S Diesel
Generations Timeline, Specs and Pictures
PORSCHE Macan S Diesel 95B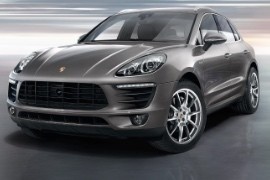 2014 2018
The SUV-baby Macan from Porsche is the answer for those who want a premium car, an SUV, and a performance car in a single vehicle, which they can park easily in cities or tighter parking lots.
The 2014 Macan combines the typical handling characteristics of a Porsche: maximum acceleration and braking values, vast engine power, extreme agility, and optimum steering precision. Porsche has invested 500 million euros in the plant and has established an entire production line for the model in Leipzig.
From the outside, it's look reminded of the second generation of the Cayenne, but it was shrunk. The headlights, the doors, and the raked rear end were inspired by its bigger brother.
The interior has room for five, but mostly for four people. The infotainment system can be connected only with Apple CarPlay, but not with Android Auto. The dashboard resembled some of the Porsche models, especially the Cayenne. Despite its short wheelbase, it offered enough legroom for the rear passengers. The seatback was split and folding so it could expand and offer more trunk space.
The Macan S Diesel was equipped with a 3.0-liter V6 turbocharged engine delivering 258 hp and also features an active all-wheel-drive system with an electronically controlled, map-controlled multi-plate clutch. This AWD system is fitted on all Macan models. A seven-speed double-clutch transmission transfers power as required and almost without any interruption in power supply, enabling the vehicle to accelerate from 0 to 100 kph (0-62 mph) in 6.3 seconds (or 6.1 seconds with the optional Sport Chrono package fitted).
Full Description and Technical Specifications