TOYOTA MR2 Cabriolet
Generations Timeline, Specs and Pictures
TOYOTA MR2 Cabriolet MR2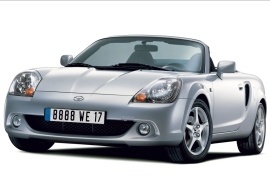 2002 2005
The Toyota MR2 was a coupe-cabriolet that offered seating for two.
An upgraded version of the third generation released in 2000 was unveiled in 2002.
Besides both exterior and interior styling updates, the refreshed version offered more driving pleasure and improved safety.
Aesthetically, the headlamps and the taillights were restyled: the dual-bulb headlamps gave the Toyota MR2 a sportier appearance, while the rear lamps now featured red lenses.
At the front, the MR2 got a new trapezium-shaped bumper that incorporated the more aggressive radiator grille. The side air intakes were refreshed and painted in body color.
At the rear, the MR2 featured a new big-bore exhaust tailpipe and larger 16-inch alloys to enhance stability at the rear.
Inside, the revised interior featured added chrome details, while the layout of the instrument panel and the heater controls were redesigned. New seats were installed for better support.
The available transmissions were now 6-speed manual and 6-speed SMT (Sequential Manual Transmission).
The MR2 equipped with the SMT featured standard Vehicle Stability Control, Traction Control, and Brake Assist.
Under the hood, the Toyota MR2 had a 1.8-liter engine that developed 138 hp. While it was not the fastest car on the road, it sure offered a great experience, together with the superb handling.
In 2005, Toyota had to discontinue the MR2 due to the low sales figures.
Full Description and Technical Specifications
TOYOTA MR2 Cabriolet MR2 Spyder Cabrio
2000 2002
Similar to the second generation of the car, the third one came with a completely new MR2, a Toyota vehicle which was also called MR-S and MR2 Spyder.
Although it looks similar to the 1996 Porsche Boxster, the new MR2 is based on a concept unveiled by the Japanese company at the 1997 edition of the Tokyo Motorshow. Available in two body styles, a 2-door convertible and a 2-door coupe, the new MR2 comes with a new engine, namely a 1.6 liter l4 which develops 140 horsepower. In addition, Toyota released two new transmission versions, a 5-speed and a 6-speed manual gearbox.
Full Description and Technical Specifications