ALFA ROMEO 159 Sportwagon
Generations Timeline, Specs and Pictures
ALFA ROMEO 159 Sportwagon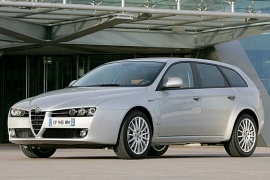 2006 2011
Alfa Romeo didn't want to add the "station-wagon" to its products, so it chose the Sportwagon instead.
In 2006, the Italian car-maker introduced the 159 Sportwagon model.
The Alfa Romeo was built on a jointly developed platform with the GM. While the Italians made a series model from that, the GM didn't continue and it used the Epsilon II platform for the Insignia, which was introduced two years after the 159 range.
The Sportwagon was unveiled at the 2006 Geneva Motor Show and it had the same signature of Giorgetto Giugiaro design studio, in cooperation with Centro Stile Alfa Romeo. The car was not intended to offer a lot of trunk space. Like the 156 model before, it offered less room with the rear seats up than the sedan version. The Italian way was to offer a station-wagon that looked attractive. The car looked similar up to the B-pillar with the sedan, but the extended roofline and the raked D-pillars were different. The high-mounted taillights were installed were ideal for city traffic and tight parking spots.
Inside, the 159 Sportwagon featured the same bucket-seats for the front passengers and rear aluminum trims on the center stack. In the back, there was hardly room for three adults due to the limited shoulder room.
The Sportwagon was offered the same choice of engines as the sedan. Over the three-box version, it received a lifted version, named Q4, with all-wheel-drive.
Full Description and Technical Specifications