CHRYSLER Airflow
Generations Timeline, Specs and Pictures
CHRYSLER Airflow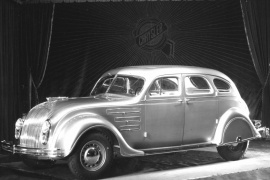 1934 1937
It was a car ahead of its times, with unibody construction, not based on a chassis like any other car on the market.
On top of that, the streamlined shape made it faster and more fuel-efficient.
While the Airflow was a sales failure, the qualities of that vehicle were strong. But it was too far ahead of its times so the customers could appreciate it. It featured more important discoveries than most of the other vehicles on the market, starting with the double-glazed windows, steel, tubular, frame, hydraulic power brakes, and a rounded shape. It was available as a two-door coupe and four-door sedan.
The Chrysler Airflow featured a front fascia wit the headlights enclosed in the front fenders, in a time when most of the other car-makers installed them on a stainless steel rod, in front of the grille. The grille was high, in a V-shape forging forward, and with horizontal chromed bars. The split windshield could have been opened via two rotating knobs inside the car, to allow a better air-flow into the cabin. Like most of the other cars from that era, the sloped back featured a trunk and the spare wheel inside.
The interior was huge for its era. It featured seats with exposed frames until they were replaced with lower ones, for easier ingress and egress in 1945. The 1934-'35 cars featured a round-faced dashboard that was changed to more conventional square gauges in the last production year.
The 5.3-liter inline-eight engine was mated to a standard, 3-speed, Borg-Warner automatic gearbox. It featured solid axles front and rear supported by leaf springs and hydraulic dampers in all four corners.
Full Description and Technical Specifications