CITROEN BX Break
Generations Timeline, Specs and Pictures
CITROEN BX Break
1989 1994
In 1989, Citroen refreshed the BX range, both the hatchback and the station-wagon, which was named Break.
The BX was introduced in 1982 and it was well-received by the market. It was built on the same platform with the Peugeot 405, but it received the Citroen suspension, which allowed a variable ground clearance due to the hydro-pneumatic suspension.
The car's styling was performed by Marcello Gandini, who worked for Bertone Style Studio when the car was introduced in 1982. The initial design was offered in 1979 to Volvo as a concept car named Tundra, but the Sweedish company thought it was too much for that era. Citroen bought the project and asked Bertone to make it a 4-door hatchback. And the "origami-design" was approved and appreciated by the Peugeot-Citroen board. He was in charge of the station-wagon shape as well, which he did by extending the roof and creating a new rear end. The rear doors were the same, which led to cost-cutting solutions.
Inside, the instrument cluster was cluttered with more dials, especially for the top versions that featured an electronic fuel-injection system. But it was still easy to read. The side-satellites for the turn-signals were replaced with regular stalks. Even though the car was considered as a medium-sized vehicle, it was cramped even by 1982 standards when the car was shown. In 1989 it was even more difficult.
There were few new engines installed for the 1989 model, but the most important improvement was the introduction of the all-wheel-drive system with the 1.9-liter gasoline engine.
Full Description and Technical Specifications
CITROEN BX Break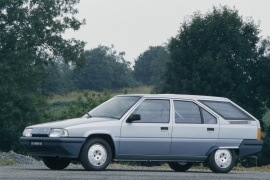 1985 1989
Just like the GS and GSA predecessors, the Citroen BX also had a Break variant, which shared the same angular design with the hatchback version.
Not exactly a coincidence, since both variants were designed by Marcelo Gandini, who was the head of design at Bertone during the time. Just like its stablemate, the BX Break also benefited from the Peugeot-Citroen merger in 1976, therefore it shared many components with the Peugeot 405, but it was spiced up with Citroen's own technology: hydro-pneumatic self-leveling suspension, disc brakes all around and numerous plastic body panels.
Full Description and Technical Specifications