CITROEN LNA
Generations Timeline, Specs and Pictures
CITROEN LNA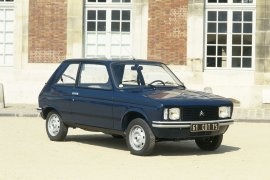 1978 1984
Citroen had some very hard times in the late 70s and its struggle after being bought by Peugeot didn't end there.
The carmaker had to come up with a low-cost vehicle on the market, able to bring money and save the brand from imminent bankruptcy. This is how the Citroen LNA appeared. It was built on a shortened platform of the Peugeot 104, but with Citroen engines. The engines were actually from the glorious 2CV, the car that put France on wheels after WWII. With a small 0.6-liter displacement and jut 36 hp, the LNA was a shy debut and it wasn't a big success compared to its sibling, the Peugeot 104.
It had three engine variants, one with 32 and the other one with 36 hp. Since the LNA was cheap to buy and run, it was received well on the French market, which helped the Citroen brand to survive and even bring new models on the market, such as the Citroen Visa in 1978. The simple powertrain was based on a 4-speed gearbox and torsion bars for the suspension assembly. In order to increase sales, Citroen even made a version with two seats, which was sold as an enterprise vehicle and considered as a van for lower taxations.
The small vehicle was fit for crowded cities due to its small size of just 3.4 meters (11 ft) and thus being easy to park. The black, one-piece molded bumpers appeared during the production years and saved the money for repainting from scratches in parking lots.
Full Description and Technical Specifications