FERRARI 458 Spider
Generations Timeline, Specs and Pictures
FERRARI 458 Spider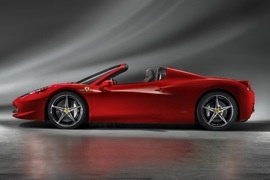 2011 2015
Ferrari did it! In 2011, the famous Italian brand made its first retractable hard-top supercar with a mid-engine.
And it did it so the driver won't feel the missing top, and will enjoy the amplified sound.
The 458 Italia was a major breakthrough for Ferrari. It was fitted with an engine that won the "International Engine of the Year" and it was a naturally aspirated V8 unit. It was one of the first, pure, NA V8 mounted in a Ferrari. The newest pollution restrictions forced them into the turbocharged era.
From the outside, the sporty 458 Italia Spider looked almost the same as the coupe version from the front. But the profile, with the roof retracted, looked more like a Targa bodywork than a roadster. Right behind the cabin, there were two bulges needed to hide the security arches. In the back, the engine was covered by a metallic part, obstructing the view to the gorgeous V8.
To open the top, the 458 Spider needed only 14 seconds. The aluminum roof was automatically folded into a compartment behind the cabin. The small space needed to house the roof enabled the designers to include a generous rear bench for luggage behind the seats. With the new solutions, the 458 Spider was lighter than its predecessor, the F430 Spider, by 25 kg (55 lbs).
The engine was a naturally aspirated V8. It offered a 9.000 rpm red-line and its 4.5-liter displacement was squeezed to produce 570 hp and 540 Nm (398 lb-ft) of torque. Both values were considered impossible by most of the other car-makers. But not by Ferrari engineers. The 7-speed automatic gearbox.
Full Description and Technical Specifications